With a concept as broad and expansive as The Mandalorian's, it seems only natural that the Razor Crest would arrive on Tatooine sooner or later, in what feels like the most fan-pleasing episode of the series so far. Teaming up with a newbie bounty hunter, Mando must capture his most deadly target so far, the indomitable Fennec Shand (played by Disney Legend, Ming-Na Wen).
Chapter 5: The Gunslinger certainly had the feel of an episode of Star Wars: The Clone Wars, featuring silly droids, cute Baby Yoda antics and an admittedly simple set-up, so I was fairly unsurprised when the credits revealed that this installment was written and directed by Clone Wars maestro Dave Filoni, making it the first not to be written by showrunner Jon Favreau. Filoni's script plays like a Saturday morning cartoon, and while this makes it a perfectly enjoyable chapter, it does feel somewhat over-simplified. There's a lack of extras in this episode, which means that Tatooine feels a bit empty, as opposed to a bustling hive of scum and villainy seen in Star Wars: A New Hope.
I appreciate the limitations of a television series, as of the half-hour format, but aside from the three droids there's only five characters: Mando (Pedro Pascal), Baby Yoda, Peli Motto (Amy Sedaris), Toro Calican (Jake Cannavale) and Fennec Shand. The galaxy just feels a little smaller when we're limited to so few characters.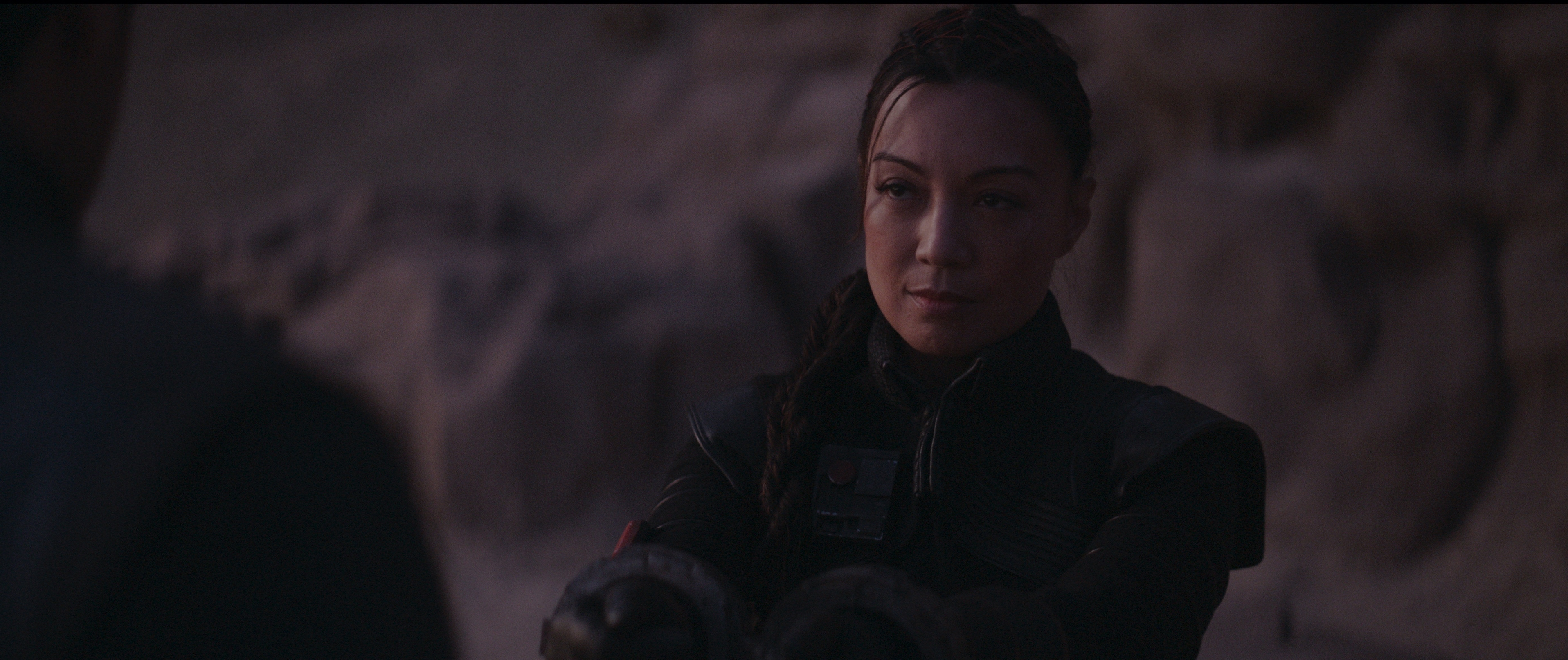 The half-hour format also means that the episode has to be careful with its plotting, and whilst it didn't feel as underdeveloped as last week's Chapter 4: Sanctuary, this chapter never quite gets the chance to establish its scope. We're told than Fennec Shand is a deadly and formidable foe to go up against but we don't get to see any of this, aside from some great sniper-work in the episode's standout speeder set-piece. Ming-Na Wen is excellent in the role, and I was very glad that she's implied to still be alive at the end, but I wish we'd perhaps seen a glimpse of just how strong she is – More in the future please, she's a great baddie!
Toro Calican is an interesting addition to the episode, allowing us to meet a Bounty Hunter in his early days. At first I thought he'd form a mentor relationship with Mando, but it becomes clear very quickly that he thinks himself as a laid-back, cocky Bounty Hunter; more of a Han Solo than a Boba Fett, showcased in his introduction in Mos Eisley's Cantina. If anything, the character reminded me a little of Shia LeBouf's character in Indiana Jones and the Kingdom of the Crystal Skull: a wannabe badass hunter but actually a bit of an idiot. The way he was quickly dispatched with at the end of the episode seemed to showcase as much. I did like his main scene with Fennec Shand though, she tries to convince him to make a deal. Calican may be out of his depth, but he's smart enough not to trust Ming-Na Wen's evil speech.
We also get some adorable Baby Yoda antics to sweeten the deal this week, and I have to say that the puppetry is absolutely incredible. He's always moving or twitching, and feels like a real living creature, which adds not only to his adorable qualities but also to the tension in The Gunslinger's climax, as he becomes a hostage to Calican.
Overall, Chapter 5: The Gunslinger is a fun and entertaining, if slightly forgettable, episode of The Mandalorian. There's some fun action, a nice return to a familiar location, a really great villain (more Ming-Na Wen please) and the galaxy's real saviour, Baby Yoda. Perhaps I would have liked to have seen more in this installment but appreciating it as a big-budget Saturday morning cartoon, I have to say that I enjoyed it, if not as much as the earlier episodes.
The Mandalorian returns next week, as does our review blog! Head here to read everything so far….